Taddy Blazusiak Joins IRC Tire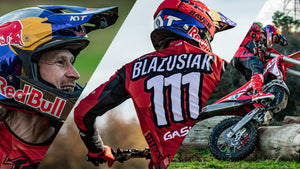 IRC Tire is excited to announce that world-renowned off-road racer Taddy Blazusiak will be joining the team starting in 2023.
Blazusiak, a six-time FIM SuperEnduro champion, five-time AMA EnduroCross Champion, five-time Red Bull Erzbergrodeo winner, and four-time X Games gold medalist, brings a wealth of experience to the IRC Tire team. He will compete on IRC Tire for the remainder of the FIM SuperEnduro Chamipionship, AMA EnduroCross Championship, select Hard Enduro races, and various consumer-focused ride events. Taddy puts IRC Tire on the global stage to showcase their performance and durability to fans and competitors alike.
"I'm excited to work with the team at IRC Tire," said Taddy Blazusiak. "I can't wait to show how good the products are, I'm also excited to work together with R&D team on some new tires so riders of all abilities globally can have even more fun riding dirt bikes."
"We are thrilled to have Taddy Blazusiak joining the IRC Tire family," said Masaki Ikeda, a representative of IRC America, Inc. "His talent and accomplishments on the racetrack are unparalleled and it's such an honor to be entrusted by Taddy for his tire needs. We look forward to working with Taddy, both in racing and future product development. We're committed to support his future successes on IRC Tire and continue to showcase the amazing experiences dirt bikes bring all of us." With Blazusiak on board, IRC Tire is poised to continue its tradition of excellence in the off-road racing world. Fans can look forward to seeing Taddy Blazusiak in action on IRC Tire in the 2023 season and beyond.
IRC Tire products will be available through Parts Unlimited, Parts Canada, Western Power Sports and Gamma Powersports dealers in the North American market, and Parts Europe in the European Market starting in Spring 2023.
About Inoue Rubber Co., LTD.:
Founded in 1926 in Japan, IRC Tire (Inoue Rubber Co., Ltd.) is a leading manufacturer of high-performance motorcycle and bicycle tires, especially in the off-road category. The company has a long history of supporting the racing community and is committed to providing riders with the best possible products and support. With a focus on innovation and quality, IRC Tire has established itself as a trusted brand in the off-road racing world.