ROUND 2 Prescott Valley Az, 10-21-23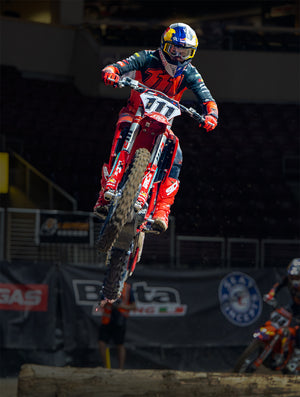 IRC Tire's #111 Taddy Blazusiak

Recap by Rich Larsen -

As I saw it.
Round 2 of the 2023 AMA Endurocross series continued this weekend in Arizona. After an exciting round one that set the stage for this year's series, the usual riders we expect to see on top are looking to solidify their points as we continue the year. At round one last year's Champion Jonny Walker picked up where he left off with a 1-1-1 Victory and the red plate. Followed by three time champion Cody Webb in second. Ryder Leblond the young Husqvarna Rider finishing an impressive Third to start the season strong. Colton Haaker and Trystan Hart finish out the top 5 respectively.     
This weekend in Arizona shows a more traditional hard pack dirt compared to the soft rutted track from the past weekend in Seattle. More flat hard pack corners usually makes for passing opportunities. The round two track features a few more log doubles and jumps than usual. What seems to be a higher speed track which style tends to lend an advantage to riders like Colton Haaker and Taddy Blazusiak. A technical rider like Cody Webb, he visibly was questioning aspects of the track. This weekend's layout features no matrix, two tire doubles and quite a few log double features. A track reminiscent of 2022's SLC round where we saw a win from Taddy and that season's lowest result from Jonny an 8th. The question that comes to my mind here in Prescott is, "How will Jonny perform on this style of track?"
The morning program for Amateur and Expert Riders kicked off at 9:30. As the race line around the track began to take shape we saw the major passing sections being established in the long rock section. Featuring an off camber just 90 degree turn shaping into multiple passing points. At the exit of the rocks we saw a step up. I expected to see a majority of pros clearing. This is where the race was decided. With morning qualifiers underway we see a foreshadowing of the racing to come. The expert class saw battles between SuperEnduro Jr riders Dominique Olszowy and Norbert Zsigovits. Expert riders Spenser Wilton Brandon Petrie Tim Apolle Cody Miller James Flynn and Josh Roper all looking to solidify their spot in tonight's main event.   
IRC Tire's #55 James Flynn
In the Novice, Intermediate, Jr, Vet, and Women's class we see a track difficulty perfect for the up and coming riders to battle on. We also saw an outstanding presence of IRC Tires in these classes. Including a clean sweep of the Jr class all running the Jx8 Gekkota rear. Showing IRC our support isn't going unnoticed.   After the morning Qualifiers wrap up the pros take to the track for their practice. Watching the track develop we saw the passing points as expected, the rocks , step up, and 180 degree sweeper, will be prime for racing tonight.
The track shaping into apex lines. With multiple 90 degree sweeping turns we see an inside protecting line making this course challenging to pass on. For Multiple riders finding a constant line through the rocks and having enough drive for the step up after was important. Walker Haaker Blazusiak taking multiple runs to dial a few different approaches. Hart and Webb seemed slow to constantly jump the step up after the Rocks. Webb splattering rather than down siding and Hart shorting a few times before dialing it in. Walker took the fastest lap by 2.5 seconds. 2nd through 6th all running within a second of each other. Answering my question, how Walker will do on this track. He is just "that good."   Gearing up for the night show fans begin to file into the pits then to the arena. Prescott valley always delivers a good turn out for Endurocross. After these first two rounds I remain hopeful on the growth and resurgence of this sport. It is, (in my opinion) the best racing on earth.  
Opening Ceremony featuring the top ten, lights, roaring crowds, and significant support to the hometown riders Max Gerston and Cooper Webb. With Cooper's first weekend on the Sherco 300 two stroke, the crowd had an extra gear for the high pitched sound and smoke. From there we start the show with the Expert main event. Top 6 go to the Pro main. With 16 riders on the gate it's always a competitive task to qualify. Right off the bat Super Enduro Jr champion Dominique Olszowy jumped into the lead and controlled the race from start to finish. Followed by Wilton, Petrie, Apolle, Miller. A frantic battle for the bubble spot between former competitor Ty Cullins and Gas Gas factory trials rider Josh Roper ensued. Roper edging out Culling for the final spot into the main.    Now Hot Laps for gate pick. Each rider seemingly faster than the next, all eyes waiting for the top qualifiers, Webb, Haaker, and of course Walker. Again walker showed his skill with a 35 second time, 1.8 seconds faster than Haaker. Walker seemingly the cleanest through the rocks. His effortless approach rates the question, can anyone beat him?   
PRO Moto 1 takes the gate. Out to the lead the 5 time champion Colton Haaker. Colton jiving with this year's bike more than the previous year. With his speed and intensity it's only a matter of time till he gets a win. Jonny jumps into second as Colton controls the race. The gap remains until Colton goes down exiting the step up and hands the victory to Jonny. Ryder Leblond showed his consistency in third with Webb close behind not able to make the pass in 4th. Trystan started strong but went down in Moto 1 finishing 5th.   
PRO Moto 2 The inverted Grid. Dominique Olszowy, Jumps out to an early lead Cody Webb Getting out off the back row the best. Jonny and Colton are mid pack Trystan further back with a lot of work to do. Quickly Webb takes the lead from Dominique but still an impressive showing from the Rookie. Jonny makes his way to 3rd then quickly to second. Cody doing well holding Walker off on a track that he said does suit him. Finally walker passes for the lead as Haaker moves up to Third. Haaker on a mission gets around Webb For your final finishing order. Walkers seemed to be unbeatable.  
PRO Moto 3 we saw fireworks. The gate drops and Colton Haaker jumps out to an early lead. Trystan Hart finally gets the start he needed in Second, Webb Third, Walker fourth. Haaker, looking to run away, starts to pull a gap on second. Jonny gets around Webb and sets his sights on Trystan. Haaker is still pulling a gap. Jonny with a fast line in the rocks gets around Trystan and puts the hammer down. Somewhere out of my sight Trystan goes down and Webb takes over third where he stays for the remainder of the race but all eyes are on Jonny. Colton now weathering the onslaught of Jonny, Haaker putting in perfect lines. Jonny had to start riding creative lines. Taking a wide line in the rocks he levels up with Colton. Jonny has more speed here and is looking to make the pass in the 180 degree turn after the step up. Colton Checks up and blocks his advance. The next lap Jonny tries again, this time full send. Jonny loses a bit of traction on the exit of the rocks and they collide, up the face of the step up. Colton holds on. At over the halfway point of the race Jonny tries the line again this time Colton Shows incredible race craft changing his line blocking Jonny. Jonny relentlessly tries again. Colton moves over in the Rocks Jonny on a dime checks up, cuts behind Colton and still doubles. Incredible. Now he has the inside for the 180 sweeper. Colton tries to close the door but it's not enough Jonny takes over the lead and white flag waves one to go. Colton staying close toys one more last ditch effort. Jonny takes Coltons inside protection line in the rocks Colton tries to rail the outside. It's not enough Jonny walker Holds on and goes 1-1-1. 6 Moto wins in a row.   
Colton Visibly frustrated although a reminisce of the Colton we haven't seen since 2021 appeared. The remainder of the season will be unforgettable if we see more battles like this one.
On the Podium smiles from all Jonny Colton and Webb all satisfied with their results but all wanting more. After the awards and champagne we see a lone Colton Haaker Walking the rocks by himself in contemplation…. A motivated Haaker is a scary Haaker. I'm here for it.   
See you in Twin Falls Idaho Next weekend for the double header.  👍