IRC Tire selects LiFT creative studios to help relaunch the brand in the U.S.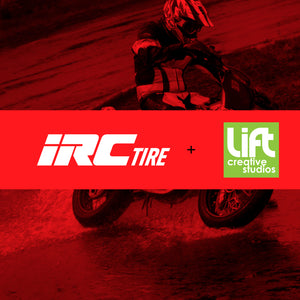 CARLSBAD , CA — As part of its plan to re-enter the U.S. market, legendary Japanese tire maker IRC Tire named Carlsbad-based LiFT creative studios (LiFTcs) as its creative and interactive agency of record.
Inoue Rubber Company, or IRC as it's best known, is a global, two-wheel , tire manufacturer based in Nagoya. The company was a leader in the development oversize motocross tires in the 1970s and worked with moto legends such as Rick Johnson, Jeff Ward and Broc Glover in the U.S. to develop winning tires for motocross and supercross. In the 1980s and 1990s, it was a leader in the high-performance scooter and mini-moto markets. Today, it's best known in the U.S. moto market for its inner tubes.
Now, with the help of LiFTcs, IRC is ready for a U.S. comeback.
"We are really excited to be working with LiFT creative. With their extensive experience building action sports brands, they are just what we need as we develop new products and take this great brand to new heights," said Marc Ikeda, IRC's North American motorcycle division manager.
"LiFT will help our newly assembled team of innovative marketing and branding experts return IRC to the market dominance it once enjoyed. It's an exciting time for everyone at IRC, as well as our distributors, retailers and consumer customers," Ikeda added.
LiFTcs, an expert in action sports marketing, completed an extensive review process to win the account, said Steve Driscoll, LiFTcs' managing director.
"Everyone at LiFTcs is thrilled to be selected to partner with such an iconic brand. IRC has been the premier tire brand and a supplier to many legendary moto teams and riders. Our goal is to re-establish IRC with a strong presence in the market and reintroduce the brand to consumers." Driscoll added.
About IRC Tire
Founded in 1926 in Japan, IRC Tire has more than 90 years of experience develop ing and manufacturing tires for all types of two - wheel vehicles. IRC began making motorcycle tires and tubes in 1952, entering the U.S. moto market in 1966. IRC owns seven manufacturing plants worldwide. For information visit IRCtireUSA.com
About LiFT creative studios
LiFT cs is a full - service marketing agency that provides branding, creative, PR, sales and digital services along with a singular commitment to helping its clients achieve their goals. For information visit LiFTcs.com