IRC Tire Joins on as EnduroCross Partner for 2019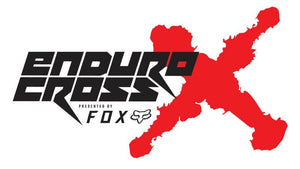 TULSA, OK (August 2, 2019) – IRC Tire has teamed up with EnduroCross to be an official partner of the three-round series for 2019.  EnduroCross is an AMA sanctioned indoor, extreme off-road racing series that kicks off the first event on August 24th in Prescott Valley, Arizona. The top teams and riders have all confirmed their participation in addition to several sponsors dedicated to keeping EnduroCross progressing.
 
Expanding their leadership role in the Extreme Off-Road Market with their sponsorship of the series, IRC Tire will continue to showcase the performance of the GEKKOTA tire line. The GEKKOTA line was specifically designed to meet the demands of enduro and trail riding with an incredibly soft and grippy gummy rubber compound which grips when other tires slip. There are two tires in the GEKKOTA line.
 
The VE-33s GEKKOTA – This hybrid tire combines IRC's GEKKOTA gummy compound technology with a high knob Off-road tread pattern that provides the best traction in the worst conditions. This tire is designed to perform in extreme conditions from sloppy dirt or sand to logs, roots, rocks, swamps, and gravel surfaces.
 
The IX-09w GEKKOTA – This model combines IRC's proven off-road IX-09w tread pattern and the ultra-gummy compound to provide serious straight traction in any obstacles. The super flexible sidewall and extremely lightweight carcass provides great bump absorption.
 
"We are proud to join the elite list of companies that have partnered with EnduroCross.  IRC has developed tires to handle the most demanding riding conditions and these tracks are a great proving ground. Our successful partnership with top riders confirms that the Gekkota line is one of the best extreme enduro tire offerings on the market today," said Marc Ikeda, Operations Manager for IRC Tire USA.
 
IRC Tire will have staff members on hand to help showcase these products and more at all events throughout the series.
 
To find out more about the GEKKOTA tire line visit www.ircmoto.com
Instagram: @ircmoto

 
The three-round 2019 series will kick off on August 24th in Prescott Valley, Arizona. The top teams and riders have all confirmed that they will be participating and several sponsors have confirmed their support to help to keep EnduroCross progressing. The pro class will feature a three-moto format and there will be classes for Women, Expert, Amateur/Intermediate, Vet 35+, and a local club class for each round. 
 
You can keep up with the latest updates via the following channels:
www.endurocross.com
www.facebook.com/EnduroCrossSeries
www.instagram.com/enduro_cross
 
2019 EnduroCross Series Schedule:
August 24th, 2019 | Prescott Valley, Arizona | Findlay Toyota Center
October 19th, 2019 | Denver, Colorado | National Western Center
October 26th, 2019 | Boise, Idaho | Ford Idaho Center
Now is the time to make your plans to compete or come see one of the 2019 EnduroCross events in person.
 
Tickets for round one in Prescott Valley, Arizona are available here: http://www.findlaytoyotacenter.com/events/endurox-extreme-offroad-racing

Racers can enter here: 
https://secure.tracksideprereg.com/endurox/?loc=mainnav&lnk=rider-registration&loc=contentwell&lnk=IMG&dom=section-1
Richard Larsen is a regular competitor at Extreme Enduro events and will be on hand at all three 2019 EnduroCross rounds to share his knowledge of IRC tires with the racers and fans. 
Visit www.EnduroCross.com for the latest news.
Instagram: @enduro_cross
Facebook: www.facebook.com/EnduroCrossSeries
About IRC
IRC Tire was founded in Japan in 1926 producing bicycle tires and tubes. The brand started to manufacture motorcycle tires in 1952 and opened its first US office in 1966. IRC has a rich history for producing high-quality tires and has joined on as an EnduroCross partner to showcase the performance of the current line and develop new tires for the most demanding conditions.